You are here: Homepage » Residential » Ceiling Fan
Ceiling Fan Installation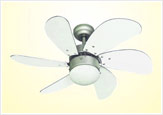 If you've been struggling with warm or cold weather, you have a lot to gain from ceiling fan installation. Though most people think that ceiling fans are only meant to make the summer months a bit easier to deal with, these fans are capable of doing much more than cooling you off. Some of them are actually designed to warm you up as well, by drawing cool air upward and pushing warm air down for you to enjoy.
But while the simple benefits of ceiling fans make them well worth installing, think twice before you do so yourself. Convenient as these fans are once installed, the installation process is more complicated than you may expect.
The Complexity of Electrical Installation

The fact that ceiling fans are run by electric motors hints that installation requires sufficient knowledge of electrical wiring and equipment. Another detail that can complicate the process is the weight of these fans. Some can weigh more than 30 pounds, and will require sufficiently strong electrical junction boxes to support them.
Most ceiling fans are also built to operate at varying speeds, and as such need to be calibrated and wired accordingly. Others even have lights attached to them, which must be set to function independent of, or in conjunction with, the fan blades.
With so many things to consider, it's best to leave the electrical installation of ceiling fans to dependable residential electricians. Availing of the domestic services of NYC electricians will allow you to savor the cool and warm gusts ceiling fans generate, without having to worry about complex work, personal safety, or satisfactory function.
New York Domestic Electrical Services
We at Electrician New York include the installation of ceiling fans in our list of residential services, and can therefore guarantee that your fans will work flawlessly if you trust us to install them. We can also educate you on proper ceiling fan maintenance, or render that service upon your request. Contact us to learn more about our New York electrical services.
482 east 74th St. #1A New-York, N.Y. 10021