You are here: Homepage » Guide » Electricity Conservation
Electricity Conservation

Electricity conservation allows us to save far more than just electricity. Through conservation, we save our natural resources and preserve our environment for future generations. And it's not just about the future. You can directly benefit from it as early as today, since electricity conservation also lowers the risk of power outages and the final statement on your electric bill.
Energy and electrical conservation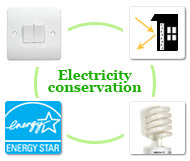 But these and many other benefits are only reserved for those who know how to conserve electricity properly. While you can save electricity by limiting the use of your electrical appliances, you won't be able to maximize the electrical energy conservation of your household if you depend solely on these simple means.
To fully benefit from your commitment to the conservation of energy, you need some electricity conservation tips from professional NYC electricians. We at Electrician New York can inform you of several highly effective electricity conservation methods that will allow you to make the most of your efforts.
The information on this website should educate you on the steps to take and the equipment to use for proper and optimal electricity conservation. Browse our site and learn more about conservation in general, the benefits of conservation kits, and various energy saving methods and equipment.
Your New York electrician
Contact us for more information or to avail of our New York electrical services. Our electrician services include the installation of efficient, power saving equipment.
482 east 74th St. #1A New-York, N.Y. 10021