You are here: Homepage » Services » Service Upgrades
Service Upgrades
People often dream of improving on what they already have, refusing to settle for anything less than something better.
We at Electrician New York can make this dream a reality through our electrical service upgrades.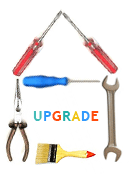 After all, we, too, have lofty ambitions. Since we were no longer content with providing basic electrical services, we improved our company by including home electrical upgrades, panel upgrades, advanced electrical installation, and many more in our growing list of services.
Every New York electrician on our professional staff has always had a fundamental knowledge of home electricity and residential electrical wiring, but now that knowledge comes with the proficiency to provide you with the most intricate and complex electrical upgrades.
An opportune time to upgrade your electrical system would be when you embark on a home remodeling project. As you go about planning the intricate details of the task, a professional New York electrician would be happy to inspect your existing infrastructure and offer tips and suggestions on upgrading and improving the system's various components.
Despite having the means to render advanced electrical services, however, we don't stray from our original and primary goal of customer satisfaction. Such is why we offer these services at very generous rates. Though the typical electrical service upgrade costs a small fortune, our home electricians will be happy to supply you with these upgrades at perfectly affordable prices.

Drop us a line or give us a call if you're interested in learning more about our advanced services.
482 east 74th St. #1A New-York, N.Y. 10021